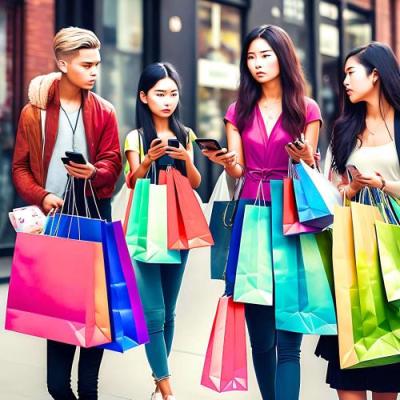 Buy Now Pay Later (BNPL) schemes have become a new trend in the financial market with people constantly looking for a more convenient way of shopping.
While their popularity is increasing, financial advisors are raising concerns about the high-risk lending schemes that are now targeting young Australians.
The number of accounts has surged from five to seven million in the last year, mostly held by people between the ages of 18 to 34.
Although these schemes offer flexibility, they remain an extremely predatory scheme.
What are BNPL schemes?
BNPL is a payment option that allows customers to buy items and pay for them over time by breaking the payments into equal instalments. This payment option has become increasingly popular in Australia, with over 20 schemes available in the market such as Afterpay, Zip Pay and Klarna. While these schemes are convenient, it has been observed that some customers have started to use these schemes for everyday expenses such as groceries, which is leading to a lack of affordability.
The risks of BNPL schemes
The BNPL sector is becoming increasingly popular, but it is not entirely without risks. Many customers are struggling to manage their spending and are letting their fees rack up. A recent survey by GetMyRefund found that almost a quarter of people surveyed had multiple BNPL accounts and over 10 percent had spent more than they intended, letting their fees pile up. This is a worrying statistic that highlights how vulnerable people are to falling into debt because of these schemes.
While BNPL providers currently face voluntary regulation through an industry code, nine providers are already signed up to it. The code demands that providers check the suitability of a transaction worth more than $2000 and provide customers with a proper complaint handling procedure that meets the required Australian Securities and Investments Commission standard. It also requires hardship provisions to ensure that customers facing difficulties receive the help they need.
The impact on young Australians
Young Australians are the most vulnerable to the risks of BNPL schemes. People with thin credit files, in particular, face an increased risk of falling into debt because of it. CEO of GetMyRefund, Carly Woods, explained that as more and more people take out BNPL arrangements to survive, they are buying items as simple as groceries on credit. This high level of use is a sign that people are becoming addicted to BNPL, which is placing them in financial hardship. If urgent regulation is not put in place, then even more Australians will be forced into financial difficulty because of these schemes.
It is important to remember that BNPL schemes can also have adverse effects on credit scores. As young people continually take out loans for everyday use, they may not realise that it could negatively affect their future borrowing ability; ultimately decreasing their chances of obtaining a larger borrowing. This is why Carly Woods wants to see an affordability test put in place before people can take out loans. This will help to ensure that only people who can manage their spending are eligible for BNPL.
The call for regulation
The federal government is now looking to clamp down on BNPL services because of their deceptive practices. The government is calling for submissions into three options recommended by Treasury, Assistant Treasurer Stephen Jones said. While he acknowledged that the industry's code of practice had worked well so far, he insisted that stronger oversight was crucial as the sector matures.
The first option would involve light-touch regulation combined with affordability tests to strengthen self-regulation.
The second option would involve partial regulation under the Credit Act, which would require providers to obtain an Australian credit license and also strengthen its industry code.
The third option is the most comprehensive, involving full regulation of the sector under the Credit Act, and applying the same responsible lending obligations that currently apply to credit card providers.
Lana Whitbread, who also shared her concern about BNPL schemes, described them as "addictive and dangerous" and that she finds it easy to fall back on them. She revealed that she used these schemes when unemployed, choosing to pay for purchases over bills. Lana has since found employment and now works in Coles Supermarket, where she sees people buying hundreds of dollars' worth of groceries on BNPL payment platforms. While these schemes offer benefits such as incentive rewards for loyalty, speed and ease, they are putting many Aussies at greater financial risk.
Published:Thursday, 30th Mar 2023
Source: financialservicesonline.com.au
Share this news item:
Why AI tools can complement financial advisers: Insights and limitations


05 Jun 2023: .financialservicesonline.com.au

Recent research has shown that artificial intelligence (AI) tools like ChatGPT are not here to replace financial advisers and planners, but rather to complement their services. Ben Neilson from Neilson & Co Wealth published a research article in Oxford University's _Journal of Financial Regulation_, where he explored the possibilities and limitations of AI software in creating financial recommendations.

- read more
ASIC Publishes First FSCP Reprimand for Adviser Impersonating Client


03 Jun 2023: .financialservicesonline.com.au

ASIC's newly formed Financial Services and Credit Panel (FSCP) has recently published its first reprimand of an adviser known only as 'Mr S' for impersonating a client during two phone conversations with a bank. Although the adviser did not benefit from the attempt to facilitate a transaction on the client's behalf, the panel determined the adviser contravened the Corporations Act and issued a directive for the adviser to provide three successive compliance audits undertaken by their licensee.

- read more
Why Homebuyer Borrowing Plunged in April Despite Strong Housing Demand


03 Jun 2023: .financialservicesonline.com.au

The lending market experienced yet another slump in April as new home commitments continued to decline due to higher interest rates and suppressed demand for housing. According to research, home loan borrowers decreased by 2.9% monthly, following a 5.3% increase in housing-related borrowing in March. The value of owner-occupier lending declined by 3.8%, while investor borrowing dropped a small 0.9%, with the total housing lending still down by 25.8% in comparison to how it performed last year.

- read more