Personal Loans Australia
:: News
Why Homebuyer Borrowing Plunged in April Despite Strong Housing Demand
Why Homebuyer Borrowing Plunged in April Despite Strong Housing Demand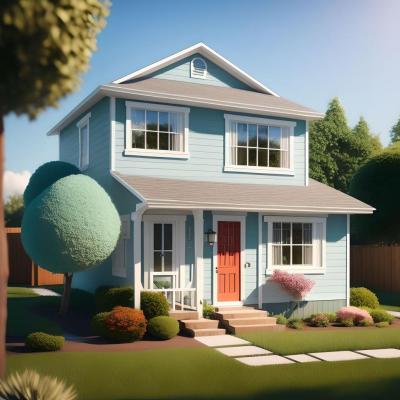 The lending market experienced yet another slump in April as new home commitments continued to decline due to higher interest rates and suppressed demand for housing.
According to research, home loan borrowers decreased by 2.9% monthly, following a 5.3% increase in housing-related borrowing in March.
The value of owner-occupier lending declined by 3.8%, while investor borrowing dropped a small 0.9%, with the total housing lending still down by 25.8% in comparison to how it performed last year.
Market Observations
Senior economist at Oxford Economics Australia, Maree Kilroy, noted that the reduction in new home listings has led to a decreased supply of real estate and a return to price growth in markets such as Sydney, Melbourne, and Perth. However, she warns there is no certainty that price growth will continue throughout 2023. Kilroy points out that it is too soon to rule out the impact of rising interest rates on at-risk borrowers and their potential to affect property prices on the back half of 2023.
The Struggling Home Building Sector
The lending slump has also affected the home building sector, with a sharp decrease in loans to construct dwellings. In April, only 2,546 loans were approved, marking a historical low. The current demand for housing seems to be outstripping supply, and there is limited development in the sector to make up for the deficiency.
Final Thoughts
Overall, the decrease in homebuyers borrowing in April is a reminder of the impact interest rates and supply can have on the demand for housing. While we are witnessing price growth in some markets, we cannot ignore the struggles of the home building sector and at-risk borrowers. The future remains uncertain, and it will be interesting to see how the market adjusts in the coming months.
Published:Saturday, 3rd Jun 2023
Source: financialservicesonline.com.au
Share this news item:
NAB Ordered to Pay $2.1 Million Penalty for Unconscionable Conduct


29 Sep 2023: .financialservicesonline.com.au

In a recent ruling, the Federal Court of Australia has found National Australia Bank Limited (NAB) guilty of unconscionable conduct and ordered the bank to pay a pecuniary penalty of $2.1 million to the Commonwealth of Australia. This penalty is in respect to NAB's contravention of section 12CB(1).

- read more
ANZ Fined $15 Million for Misleading Credit Card Fees


27 Sep 2023: .financialservicesonline.com.au

ANZ, one of Australia's largest banks, has recently faced a significant penalty, being fined $15 million for misleading its customers regarding credit card fees. The bank was found to have failed in providing accurate information to its customers, resulting in unexpected fees and interest charges on cash advances. This breach of financial regulations has led to repercussions for ANZ, as well as financial restitution for affected customers.

- read more
Financial Stress and Its Impact: Insights from TAL Research


26 Sep 2023: .financialservicesonline.com.au

A recent study conducted by life insurer TAL sheds light on the effects of financial stress on employees and highlights the crucial role of financial literacy in alleviating this burden. The findings from the 'TAL Financial Health and Literacy Whitepaper' underscore the strong connection between financial knowledge and stress levels, thereby emphasizing the need for employers to prioritize financial education.

- read more
When should I use a personal loan?


Unsecured personal loans can really help in a pinch. If your savings are low and your car breaks down, for example, such a loan can patch up your life. Or maybe you're buying a big-ticket item and you need backup money to cover a short-term hole in your bank account.

- read more
The Truth Behind Payday Loans


There's a lot been said about payday loans. Many claim that the interest rates charged are outrageous. Others say that they are the only source of finance available for those with less than perfect credit score. There is a bit of truth in both claims but there is much more to payday loans than meets the eyes.

- read more
Find out now if you qualify and compare rates, offers and options from multiple lenders - without a credit check!
Mortgage:
A loan in which the borrower (the mortgagor) offers a property and land as security to the lender (the mortgagee) until the loan is repaid. Repayments of the loan are usually made on a monthly basis over a long period of time, typically 25 years.