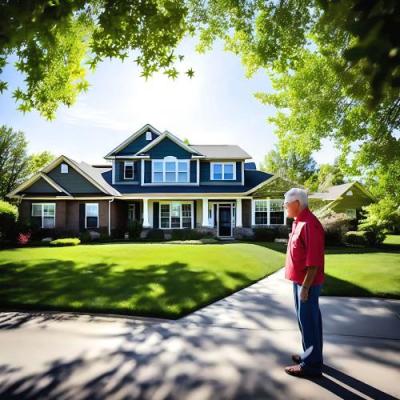 With persistent interest rate hikes coming from the Reserve Bank of Australia (RBA), a new study by Roy Morgan has revealed that 25.3% or 1.23 million of Australian mortgage holders were classified as 'At Risk' of mortgage stress in the three months leading up to February 2023.
This number marks the highest point since September 2011's 1.3 million, and it's expected to rise even higher if inflation doesn't slow down.
The Australian Bureau of Statistics (ABS) quarterly CPI figures for the year to December 2022 showed Australian inflation reaching a 33-year high of 7.8%, but a new monthly ABS inflation indicator revealed inflation slowing to 7.4% in the year to January 2023. The latest statistics for February 2023 are yet to be released, and they may influence the RBA's decision to halt their series of interest rate increases.
If the RBA does follow the example of central banks overseas and raise interest rates by another 0.25%, Roy Morgan predicts that mortgage stress levels will increase to over 1.45 million by April 2023, marking 28.8% of all mortgage holders-the highest point since September 2011. According to the study, two further interest rate hikes by 25 basis points each will drive the number of mortgage holders considered 'At Risk' up to 31.0% or 1.565 million by May 2023.
Understanding Mortgage Stress Factors
While interest rates are a major contributing factor in determining whether a borrower is 'At Risk', Roy Morgan CEO, Michele Levine explains that household income related to employment is the variable with the largest impact. Losing jobs or a primary source of income has a more significant effect on paying mortgages than interest rates.
In February 2023, a near-record 13.5 million Australians were employed, up by over 600,000 since February 2020 pre-pandemic. The strong growth in the jobs market has attracted more Australians into the labour force, but there are now over 1.5 million unemployed Australians, roughly 10.1% of the workforce, compared to 1.17 million pre-pandemic. Therefore, unemployment is a significant determinant of mortgage stress.
It's important to note that while the number of Australians deemed 'At Risk' of mortgage stress has risen by 514,000 or 8.5% since the last year, this number remains below the record high of 35.6% or 1.45 million during the Global Financial Crisis (GFC) in early 2009. Nonetheless, homeowners may need to start making careful considerations to avoid long-term financial difficulties.
Seek out Expert Advice
With the potential for further interest rate hikes and a rising number of mortgage holders at risk of mortgage stress, it's crucial for homeowners to seek expert advice on how to manage their loans effectively. Consider refinancing to lock in a fixed rate mortgage or explore other options that may be more suitable for your financial situation. Ignoring the situation may lead to long-term financial difficulties.
Published:Friday, 31st Mar 2023
Source: financialservicesonline.com.au
Share this news item:
Why AI tools can complement financial advisers: Insights and limitations


05 Jun 2023: .financialservicesonline.com.au

Recent research has shown that artificial intelligence (AI) tools like ChatGPT are not here to replace financial advisers and planners, but rather to complement their services. Ben Neilson from Neilson & Co Wealth published a research article in Oxford University's _Journal of Financial Regulation_, where he explored the possibilities and limitations of AI software in creating financial recommendations.

- read more
ASIC Publishes First FSCP Reprimand for Adviser Impersonating Client


03 Jun 2023: .financialservicesonline.com.au

ASIC's newly formed Financial Services and Credit Panel (FSCP) has recently published its first reprimand of an adviser known only as 'Mr S' for impersonating a client during two phone conversations with a bank. Although the adviser did not benefit from the attempt to facilitate a transaction on the client's behalf, the panel determined the adviser contravened the Corporations Act and issued a directive for the adviser to provide three successive compliance audits undertaken by their licensee.

- read more
Why Homebuyer Borrowing Plunged in April Despite Strong Housing Demand


03 Jun 2023: .financialservicesonline.com.au

The lending market experienced yet another slump in April as new home commitments continued to decline due to higher interest rates and suppressed demand for housing. According to research, home loan borrowers decreased by 2.9% monthly, following a 5.3% increase in housing-related borrowing in March. The value of owner-occupier lending declined by 3.8%, while investor borrowing dropped a small 0.9%, with the total housing lending still down by 25.8% in comparison to how it performed last year.

- read more